"Do Ro Ka Ra Don Don Don":  If you can say it, you can play it!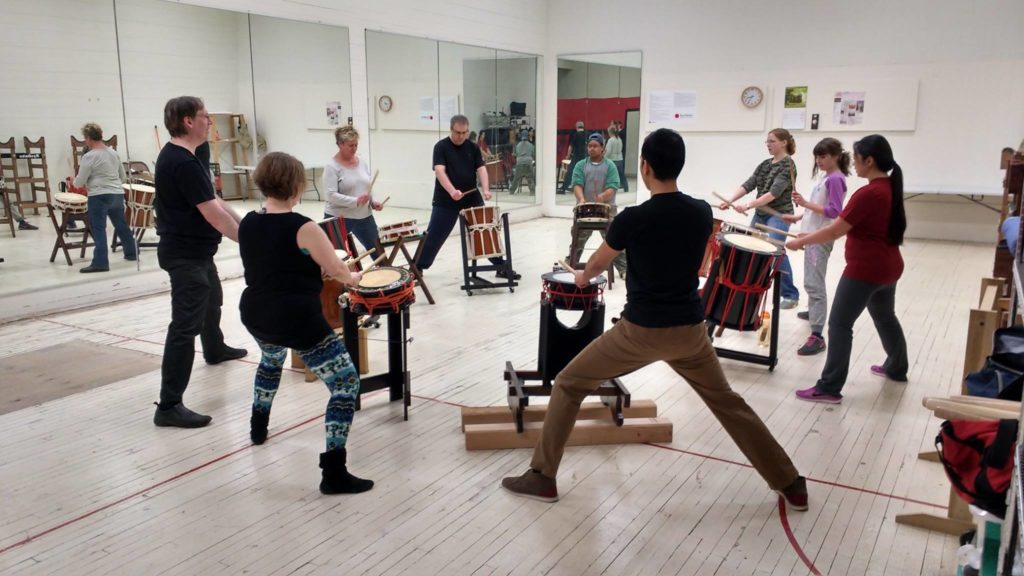 Come try playing taiko with our ongoing Beginner Taiko Drumming Classes.  You can begin in any session and renew per session.  Classes run in 4-week sessions.
CURRENT CLASS INFORMATION:
2017 Beginner Taiko Session 8
Thursdays, 6:00-7:30pm
August 3, 10, 17 & 24 (no class on 31st)
Paul Butler, Instructor
This session will focus on the "shime" style of drumming. The shime is the time keeper in taiko playing the base beat or what we call the "ji". This is a key part of taiko drumming and you will learn the main basic "ji" patterns.  We will teach you everything from proper stance, how to hold the drum sticks, and striking technique and styles, in addition to teaching you about the history and traditions of taiko. Classes are open to adults of all ages, musical backgrounds and experience. In fact, no experience is necessary. Children 12 and over are also welcome with parental supervision.
Wear comfortable clothing and non-slip shoes like sneakers.  It's a good workout, so bring a bottle of water too.
LOCATION: Classes take place at the Defensive Arts Center located within the Greenbriar Club Apartments Complex at 3901 Conshohocken Avenue, Philadelphia, PA, 19131
(Entrance to the complex is across W Country Club Rd)
COST: $60 for the 4-week session
REGISTRATION: Please register by clicking on "Tickets" at this page: Beginner Class Registration
UPCOMING SESSIONS:
Session 9 – Naname Style:        September 7, 14, 21 & 28
Session 10 – Beta Style:            October 5, 12, 19 & 26
Session 11 – Odaiko Style:        November 2, 9, 16 & 30
Reserve your spot on these future sessions by clicking on "Events" and selecting "taiko" under Categories or Tags in the registration link above.
For more information on classes, please contact Kyo Daiko at kyodaikogigs@gmail.com
For registration assistance, please contact Shofuso staff at info@japanphilly.org
Playing taiko is a lot of fun and is also a great workout, we hope you'll join us soon!